Wounded Warriors Family Support
11218 John Galt Boulevard Suite 103
Omaha, NE 68137
We Are Here When You Need Us!
If you need help outside of business hours call (402) 932-7036 and someone will always be available to assist you.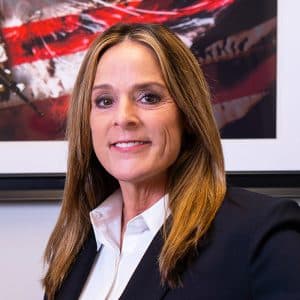 When Kate joined Wounded Warriors Family Support in September of 2007, it was a modest organization that was able to assist a relatively few combat wounded families. During the next 13 years since she joined as our first employee, she has helped grow our organization to what it is today: a highly respected and highly rated nonprofit organization that now assists hundreds of combat wounded families in all 50 states.
Her leadership was instrumental in enabling Wounded Warriors Family Support to earn an A+ rating with Charity Watch, a 4 Star rating from Charity Navigator and being named in 2019 by Consumer Reports as one of the best veterans charities in the United States.
In her 13 years with Wounded Warriors Family Support, Kate served as a director in programs and administration as well as corporate duties of treasurer and secretary. The multitude of roles and responsibilities over the years has prepared Kate for her newest challenge: that of President.
Kate earned her certificate in Nonprofit Executive Leadership from the Indiana University Lilly Family School of Philanthropy.
On her time off she enjoys spending time with her family (especially her two granddaughters!), kick boxing, jogging, attending soccer games, and going to the gym.
Colonel John D. Folsom, USMCR is the founder of Wounded Warriors Family Support, a Nebraska non-profit corporation. Wounded Warriors Family Support provides valuable assistance to families of those who have been injured, wounded or killed during combat operations. He serves currently as President Emeritus, an advisory role to the President providing guidance and expertise on past practices and operations.
Colonel Folsom has 30 years of commissioned service, the initial six years of active duty as a CH-46E helicopter pilot and 24 years in the reserve component. His service has included a contingency deployment to Beirut, Lebanon. September- October, 1983 and two deployments to Iraq in support of Operation "Iraqi Freedom" from February 2005 to February 2006 and July 2008 to February 2009. During his first deployment to Iraq, Colonel Folsom initially served as the 2nd Marine Aircraft Wing (Forward) liaison officer to II Marine Expeditionary Force (Forward) until assuming duties as the "Air Boss" at Forward Operating Base Camp Korean Village near Ar Rutbah, Iraq. In this billet, Colonel Folsom was in charge of all Marine attack and army MEDEVAC helicopter operating in his area of operations.
In his most recent deployment he was assigned as the camp commandant of Camp Al Taqaddum.
Throughout his reserve service, Colonel Folsom has held numerous high level assignments that included working policy issues in support of the Marine Forces, Pacific and as an operations planner for northeast Asia while assigned to U.S. Pacific Command.
Immediately after the September 11, 2001 attacks, Colonel Folsom was recalled to active duty and assigned to Marine Forces, Pacific until his release from active duty in August, 2002.
Prior to his deployment to Iraq, Colonel Folsom was assigned as the Marine Forces, Europe liaison officer to U.S. European Command, December 2002 to April 2004. It was during this time that he founded Wounded Warriors, later to be renamed "Wounded Warriors Family Support."
Wounded Warriors Family Support began as a "pass the hat" initiative by Colonel Folsom on March 20, 2003 and with the initial $1,500 collected, he purchased items for the Landstuhl Regional Medical Center in Germany, the first stop for U.S. armed forces personnel evacuated from Iraq and Afghanistan.
Colonel Folsom's military decorations include the Navy-Marine Corps Medal for heroism, the Bronze Star and Meritorious Service medals awarded for his meritorious service in support of Operation "Iraqi Freedom".
He resides in Omaha, Nebraska with his wife Cate, son Jack and daughter Anna.