Programs
Veterans Welding Training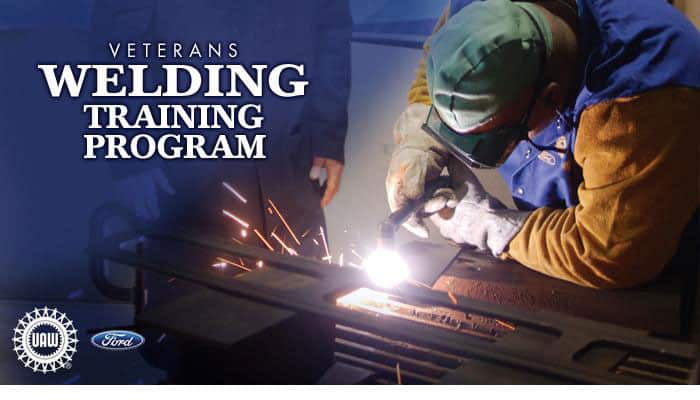 United Automobile Workers – Ford (UAW-Ford) is dedicated to showing appreciation and support to our country's military veterans and their families.  Our nation's military veterans have fulfilled great commitments in protecting our country's freedom.
UAW-Ford and Wounded Warriors Family Support have partnered to provide a training program in welding for U.S. military veterans.  UAW-Ford is offering a six-week Welding Training Program, where selected veterans will train and test for 6G through 4F welding certification.  
The program will prepare participants to pursue apprenticeships and entry-level positions in welding throughout our nation in industries such as automotive, ship building, construction and many others.  The program will take place at UAW-Ford's Technical Training Center in Lincoln Park, Mich., near Detroit.   Please contact us for additional information on the class schedule.
All 2023 Veteran Welding Training courses have been filled.

We do not have projected dates for 2024.

Wounded Warriors Family Support will provide assistance to veterans selected to participate in the program.
We provide each participant with:
For a full overview of UAW-Ford's Veterans Welding Training, click here.
To apply for the Veterans Welding Training, please fill out the following application.
If you have any questions or concerns, please contact Martin Duarte at
Graduates from the WWFS Veteran Welding Training program are also eligible to attend financial education courses through our partnership with Pathway Financial Education. Their comprehensive online training program for Small Business helps veteran small business owners to succeed. These courses are taught by highly credentialed professionals having expertise in financial planning, tax services, law, business management and more. Learn more at pathwayeducation.org.
UAW-Ford and Wounded Warriors Family Support have a special relationship. Michael Brewer completed the welding training course in 2015 with seven other veterans.
Army Specialist Michael Brewer sustained severe injuries to his hands and face in Afghanistan when he and his company were ambushed by insurgents. Despite his injuries, he was able to successfully navigate his vehicle through the attack, receiving an Army Commendation Medal for Valor for his actions, in addition to being awarded the Purple Heart.
Micheal had 14 surgeries on his hands and two on his face. Despite being told that his injuries would prevent him from working with his hands, Brewer pursued the Wounded Warriors Family Support's Veterans Welding Training Program. Brewer completed the program and re-entered the workforce. To further assist him on his path to a new career, Brewer also received a mobility-equipped 2015 Ford Explorer through Wounded Warriors Family Support's Mobility is Freedom program.