November 23, 2020
Wounded Warriors Family Support was honored to present the Maynard family a vehicle grant for the purchase of a new Ford F-250 for their family! This gift from many generous donors provides freedom and amazing family camping experiences for their family.
'Wounded warriors family support, thank you a thousand times. My family and I can not begin to Express our gratitude. You gave us the freedom to choose our path. At this point in my recovery we have goals of being outdoors and independence away from hospitals and doctors. As I still have multiple appointments per week, I am almost 10 years out from my original injury.
The free time we do have, we want to be together and if our phones can't find service we're in the right place. This Ford truck is the very big first step to being able to load up a camper and haul ourselves as far away from the everyday routine as we please.
The acquisition of this Ford truck is still very surreal and will be for quite some time. That I am sure of. We are seeing our dreams and goals realized. Wounded Warriors Family Support is the instrument that made it possible. With unlimited experiences and memories to be made, as a family, together. All of you, that donate time, money, sweat, and blood. Please know your efforts are beyond valiant and you truly make a difference. Thank You!!!!' – Jordan Maynard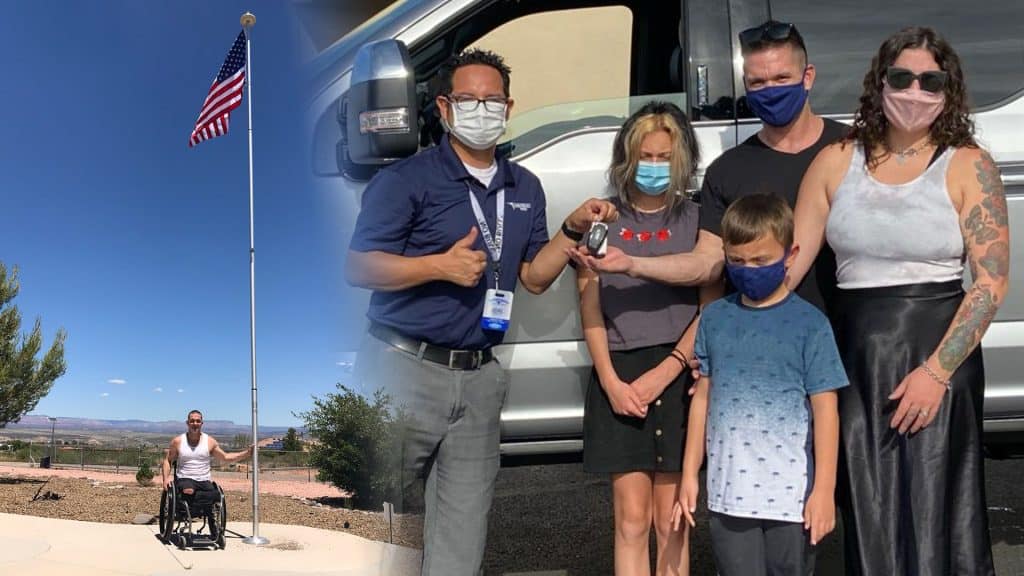 Marine Sergeant Jordan Maynard was on his second deployment when he lost both of his legs and injured his left elbow in an improvised explosive device (IED) blast in Nawa, Afghanistan on March 23, 2011.
The Squad Leader on a foot patrol with the 2nd Battalion, 3rd Marines, Sgt. Maynard stepped on an IED resulting in injuries so severe, both of his legs required amputations above the knee. Conscious throughout the ordeal and giving lifesaving instructions to his teammates, Sgt. Maynard was prepared for transport. Medically evacuated by helicopter, Jordan went into cardiac arrest numerous times, while enroute, requiring the medical crew to perform a resuscitative thoracotomy, the manual pumping of his heart by hand.
Treated at the field hospital in Deleram, Afghanistan, Sgt. Maynard was next transported to Landstuhl, Germany before arriving at Bethesda Naval Medical Center where he remained for a month enduring surgeries and rehabilitation before being transferred to Balboa Naval Medical Center in San Diego.