Assurant Joins Wounded Warriors Family Support to Present New Truck
Customized with Vehicle Mobility Modifications in Recognition of Veteran's Day
Nov. 7, 2023
Assurant, Inc., through the Assurant Foundation, and Wounded Warriors Family Support (WWFS) today presented Retired U.S. Army Sergeant Kevin Gatson of Durant, Miss. with a specially-modified 2023 GMC Sierra 1500 truck as part of the WWFS Mobility is Freedom program. The presentation took place at Assurant's Atlanta offices as the nation prepares to honor its military veterans on Saturday, November 11.  
Wounded Warriors Family Support launched Mobility is Freedom in 2015 to provide modified vehicles for combat-wounded U.S.veterans. Across the U.S., there are approximately 350 veterans who need modified vehicles due to combat-related injuries. Assurant has partnered with WWFS since 2018, and this is the third mobility-modified vehicle presented to a veteran since the collaboration began.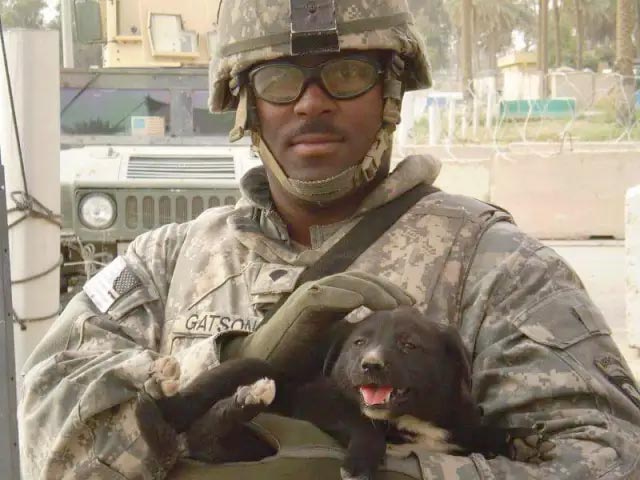 "Supporting our veterans, in partnership with Wounded Warriors Family Support, is one of the many ways we honor their bravery and sacrifice," said Assurant president and CEO Keith Demmings. "Today, we thank Kevin for his service, recognize his sacrifice, and look forward to Kevin putting many successful miles on his new truck in the coming years."

"We would like to extend our deepest gratitude to Assurant," Wounded Warriors Family Support CEO and President Kate McCauley said. "Assurant's unwavering support and generous contributions have been instrumental in helping us fulfill our mission. It's partners like Assurant that make a genuine difference in the lives of our nation's veterans and their families. Thank you to Assurant for being a beacon of hope and pillar of support."
In 2010, Kevin Gatson was deployed to Afghanistan, where he was injured by an IED while on patrol. Kevin spent almost four years in a medical center, where he underwent more than 60 surgeries to save one of his legs and prepare him for the loss of the other. As part of his physical therapy, Kevin started playing sled hockey. It has given him what he lost when he was injured and what he misses – the camaraderie and being a member of team, a unit.
The new truck replaces an unreliable vehicle that Kevin has been using for his year-round participation in Wounded Warrior Games. The mobility-modified vehicle will provide reliable transportation for every facet of Kevin's daily life, supporting his independence and enabling him to continue playing sled hockey at various venues. Some of the vehicle modifications include an Autochair Smart Lifter, power running boards for safer ingress and egress, and a sliding tonneau cover, bringing the combined value of the vehicle and modifications to approximately $100,000.
"As a veteran, I have seen the sacrifices our veterans – and their families – made to keep our country safe," said Alex Punsalan, SVP, P&C Claims, and Executive Sponsor of Veterans@Assurant. "I'm proud to celebrate the first anniversary of our Veterans@Assurant Employee Resource Group, or ERG, where we support veterans by fostering a sense of belonging, engagement, and empowerment for Assurant veterans, military families, and allies."
About Assurant
Assurant, Inc. (NYSE: AIZ) is a leading global business services company that supports, protects and connects major consumer purchases. A Fortune 500 company with a presence in 21 countries, Assurant supports the advancement of the connected world by partnering with the world's leading brands to develop innovative solutions and to deliver an enhanced customer experience through mobile device solutions, extended service contracts, vehicle protection services, renters insurance, lender-placed insurance products and other specialty products.
Learn more at assurant.com or on X (formerly Twitter) @Assurant.
Wounded Warriors Family Support is an independent nonprofit organization whose mission is to provide support to the families of those who have been wounded, injured, or killed during combat operations. This organization is run by combat veterans for combat veterans. Rated a four-star nonprofit by Charity Navigator, Wounded Warriors Family Support aids veterans and their families in healing the wounds that medicine cannot.